Read the latest SA Foundation Informer Newsletter to keep up to date
Sign Up to receive our E-Newsletters
Upcoming Events & Fundraisers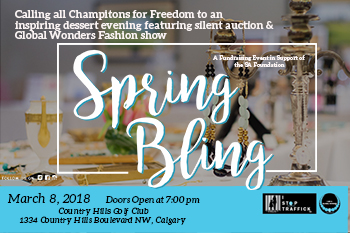 What: Spring Bling Fundraiser. Join us in Calgary for our annual Spring Bling fundraiser for an inspiring dessert evening featuring silent auction & Global Wonders Fashion Show. Click Here for details & tickets.
When: March 8, 2018, 7:00 pm
Where: Country Hills Golf & Country Club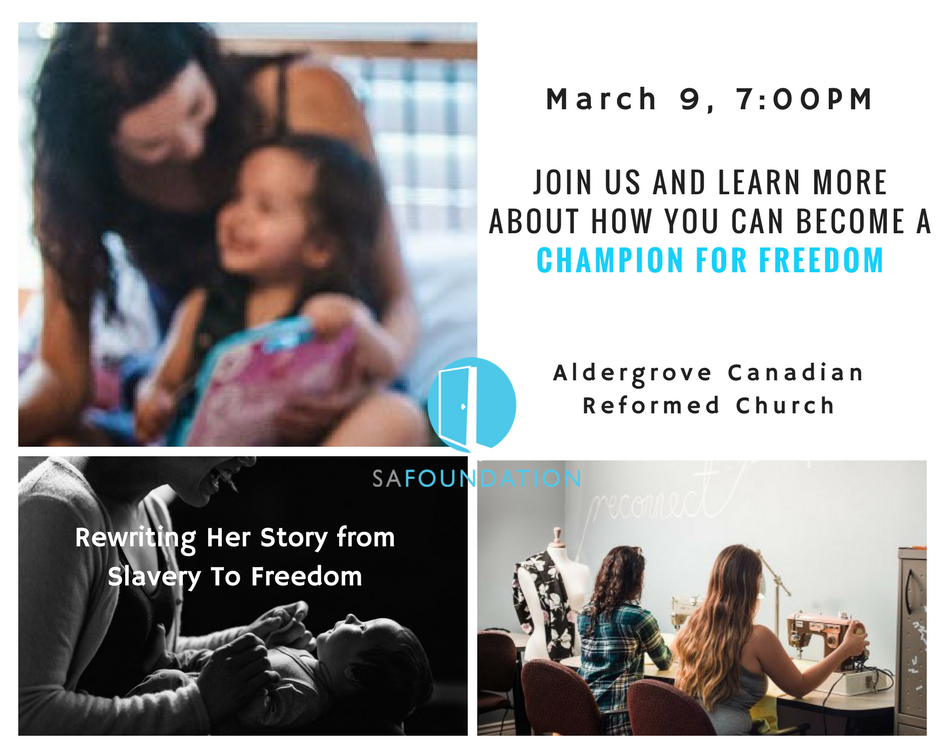 What: An Event with SA Foundation — From Slavery To Freedom. A fun and educational evening sharing the work of the SA Foundation and how you can be part of the big hope for women and their children exiting enslavement in the sex trade.
When: March 9, 2018. Doors open for jewelry and accessories sale at 7:00 pm with presentation starting at 7:30 pm
Where: Aldergrove Canadian Reformed Church, 26655 – 24th Ave, Aldergrove BC V4W 2Y2
Past Events & Fundraisers
Thank you to all the fun and crazy dipsters who plunged for Freedom and all the amazing supporters who donated towards them at this years Calgary Icebreaker Polar Dip.
You raised an incredible $103,000.00 which will go SUCH a long way in supporting women and their children in our SA Programs locally and internationally .
We think you are all so courageous and want you to know that you have helped rewrite history, the stories of our women and their children and enabled them to become
generation changers!!
Watch PolarDip Highlights
Thank you Vancouver for supporting our annual Fall Bling Fundraiser, raising over $38,000 towards our programs! 
Thanks to our supporters for supporting our very first fundraiser in the UK!
Thanks to our supporters for being Champions for Freedom during our latest Calgary Fundraiser, Her Story — Rewritten.