Breaking Ice for Freedom!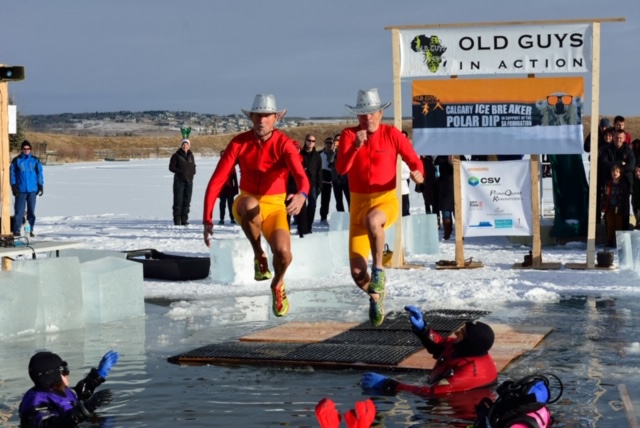 Ross Weaver and Bernie Potvin get ready for their 11th Dip!!
11 years of taking the plunge into ice water to end slavery is definitely applause worthy. We take our hats off …(but keep our scarves and gloves on, LOL)….to the incredible and courageous Ross Weaver, an oil executive and Bernie Potvin, a professor at the University of Calgary, founders of Old Guys in Action and the Calgary Ice Breaker Polar Dip. They have been and continue to be incredible Champions for Freedom, helping to raise support for the women and children in our SA recovery programs worldwide. Last year, YOU champions raised over $95,000 to meet the needs of the SA Foundation, serving women and children exiting human trafficking and sexual exploitation, from Canada to Nepal. As a result hundreds of women and children have come into a safe home, received restoration and had opportunity to gain new skills and education for a hope filled future.
We currently have SA Programs operating in 7 countries, but this year we are breaking new ground as an organisation, to extend the reach of freedom worldwide. We are training our Nepalese team to become an Internship Centre for South East Asia and developing nations. We are also currently training global leaders with vision to develop SA Programs within Nigeria, Africa and Italy. These are exciting times, but we need your help. Through this 2020 Calgary Ice Breaker Polar Dip, taking place on the 11th January, we are hoping to raise over the $100,000 goal set this year to accomplish these plans.
Can you help us reach this goal?
Visit www.calgaryicebreaker.com for more information and to register to dip, support a 'dipster' or donate! Thank you!
Put Your Love Into Action