The Friends of SAF International are concerned individuals who made the decision to become catalysts of change at local, national and international levels by asserting that sexual exploitation is not someone else''s problem, but is society''s responsibility, by purporting that "prostitution" is sexual exploitation, and by encouraging others to grow from indifference to compassion and action.
They partner with the SA Foundation (SAF) to initiate social changes for the benefit of sexually exploited and trafficked youth, women and their children by getting involved within SAF''s A.C.T. Strategy.
WHAT IS THE ACT STRATEGY?
Active participation, Community education, and Training and equipping are the different areas where a Friend of SAF International can become involved in developing a systematic and effective intervention against the sex trade industry.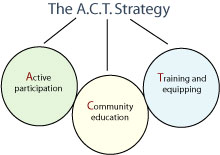 Contact the SA Foundation for more information about the A.C.T. Strategy.