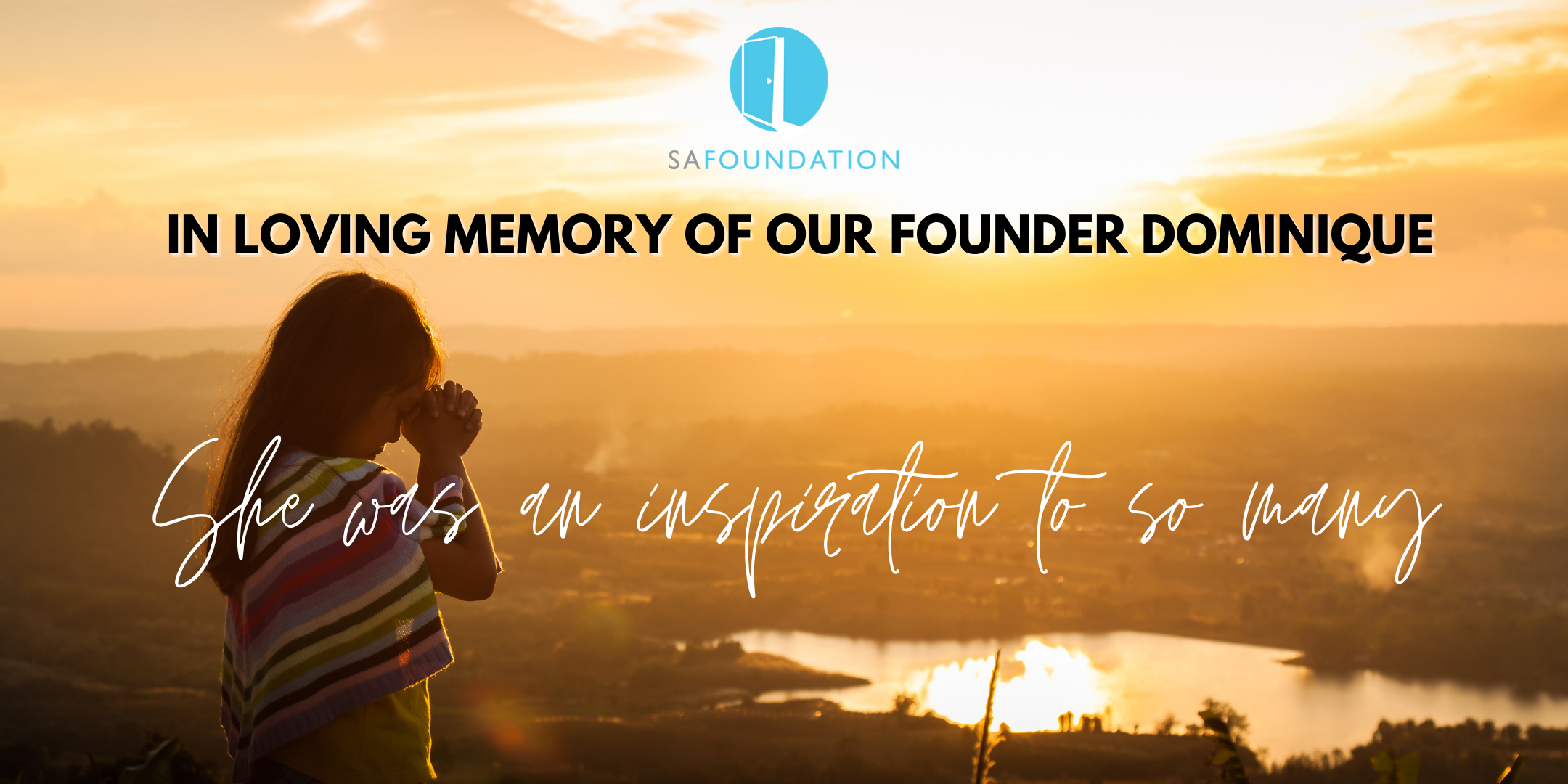 "For I am the Lord your God, the Holy one of Israel, your Saviour…you are precious in my eyes, and honoured, and I love you." (taken from Isaiah 43:3-4)
Dear Friends & Supporters of the SA Foundation,
With much sadness as a Board, we are writing to inform you that our founder and CFO, Dominique Machefert passed away on April 18th , 2021 at 2:45 PM surrounded by some of her close friends. Even though right now we are grieving along with many of you as you receive this news, we know that she is enjoying and celebrating her eternal rest in heaven. A heavenly rest well deserved for one who has "run the race and finished the course", who has heard the beautiful words of her Saviour say, "well done good and faithful servant." In our grieving we remember one who led and served many throughout her years, especially the most vulnerable in our world and because of the Lord's work in and through Dominique many have experienced a beautiful freedom from slavery.
We ask you to lift up in prayer the SA Team, its leadership, staff, volunteers, programs around the world and us as a Board because what God began through this servant of God we are committed and ready to continue. The thought of her not speaking into the plans and decision surrounding this organization from now on is difficult, but the impact and impression she has made on all of us will not be forgotten. We are committed to the vision and core values of the SA Foundation as we move forward into this new season.
I know in these times, there is a desire to do something. If you want to do something, at the request of Dominique herself before she died, that donations be made to the SA Foundation in lieu of flowers or other memorial gifts.
As was said in our last correspondence, we want to assure each of you that after a difficult year during COVID-19, as a Board we are very encouraged with where the SA Foundation is. We look to the strength of the Holy Spirit to lead and guide us as we continue to follow God's word and what Dominique exemplified for us, "to do justice, love mercy and walk humbly with our God."
I am sure the Staff of the SA Foundation would agree with us as a Board that our desire is to continue by God's Grace to support the many women and children in our programs.
Thanks for your ongoing support, financially and prayerfully. Please continue to support the most vulnerable in our world.
Rohan L Crown
SA Foundation Board President