[fusion_builder_container hundred_percent="yes" overflow="visible"][fusion_builder_row][fusion_builder_column type="1_1″ background_position="left top" background_color="" border_size="" border_color="" border_style="solid" spacing="yes" background_image="" background_repeat="no-repeat" padding="" margin_top="0px" margin_bottom="0px" class="" id="" animation_type="" animation_speed="0.3″ animation_direction="left" hide_on_mobile="no" center_content="no" min_height="none"][fusion_title size="2″]Global Wonders Handicrafts[/fusion_title]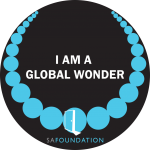 BE A PART OF THE SOLUTION TO END HUMAN TRAFFICKING – Be A Global Wonder!
Each bead strung, every fibre woven, represents another step away from a life of slavery!
Your purchase provides hope & employment opportunities for escapees of human trafficking & supports the global programs of the SA Foundation. Invest in Freedom TODAY!
In 2003, The Servant's Anonymous (SA) Foundation started a Handicrafts project in Nepal selling a few hand woven bags to friends and family out of the back of a mini van. Today Global Wonders trains and employs young women in both our Nepal & Vancouver projects and imports up to 4,000 pieces of jewelry per year. view the  info graphic below to learn more about how Global Wonders works.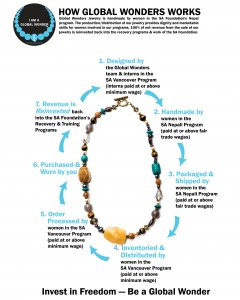 [fusion_button link="http://safoundation.myshopify.com" color="custom" size="xlarge" type="flat" shape="pill" target="_blank" title="Shop Global Wonders Handicrafts" gradient_colors="#dcdcdc|#dcdcdc" gradient_hover_colors="#00b5e8|#51c8e8″ accent_color="#51c8e8″ accent_hover_color="#ffffff" bevel_color="" border_width="0px" shadow="no" icon="fa-shopping-cart" icon_divider="no" icon_position="left" modal="" animation_type="0″ animation_direction="down" animation_speed="0.1″ class="" id=""]Shop Global Wonders Handicrafts[/fusion_button]
You've Bought the Jewelry – But You Can Do More!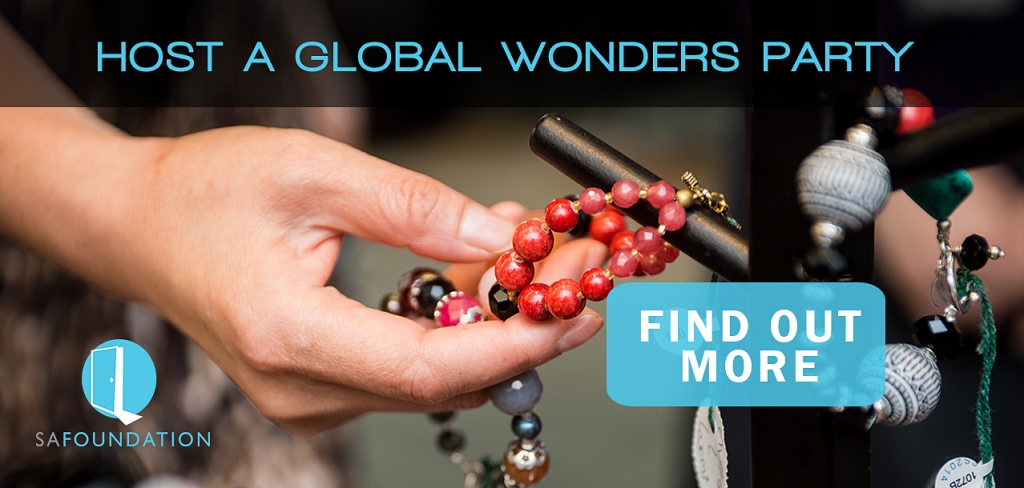 Share your love of Global Wonders and the work of the SA Foundation with all your friends, co-workers and family! Hosting a party is easy and fun – and you get to shop for a cause and get some beautiful handmade fair trade jewels! A great way to get all your gifts for your loved ones and treat yourself at the same time!
Global Wonders House Parties (or office, school or youth group parties) are easy to organize! All you need to do is decide on a date & the number of people you want to invite to your home (or office, school, church etc.) then contact us to begin setting up the party – for the Greater Vancouver area contact Naphtali, and for southern Alberta contact Lise. Once the date is set and the party has been arranged, a local Sales Representative or volunteer will come and share all about Global Wonders and the work the SA Foundation is doing to combat human trafficking. There will be a short presentation and time for questions before the shopping begins – it is a great way to get informed on the travesty that is happening all around us. Each purchase made is helping to take a stand against this injustice & 100% of the net profit goes back into supporting the recovery programs of the SA Foundation.
If you are outside of our sales jurisdictions contact us anyway – there is still a possibility that we may be in your area at some point during the year OR we have House Party kits available for order & you can host the event yourself! We have created a kit that has everything you would need to host a party for your friends, co-workers and family – it will be a great night of socially conscious shopping and learning more about the realities of sexual exploitation & human trafficking. Contact Global Wonders for more information on hosting a GW House or Office Party long distance and how to receive your Global Wonders house party kit.
After hosting your first party think about the possibility of becoming a once-a-year volunteer sales representative for Global Wonders! It is a great way to stay involved with the work of the SA Foundation and to give back. You can become a Global Wonder and share the gift behind the jewels with your friends, family and co-workers. By purchasing some of the one-of-a-kind Global Wonders jewelry for yourself or as gifts for others you are supporting another woman's independence from a life of slavery – you are investing in her future and giving her hope. If you want to become a once-a-year sales representative please contact us!

WHAT ARE OUR FRIENDS SAYING ABOUT THEIR GLOBAL WONDER SALES EXPERIENCES?
"Dear Servant's Anonymous, Have you ever wanted to be a Knight in Shining Armor? When I heard about Global Wonders and the opportunity to make a difference in someone's life, I set my fears aside, mounted the horse and picked up my sword!  We had sixteen women  come out and not only were they able to help with their purchases,  but they too were changed by the message.  It is a win, win – opportunity! Come on everybody, be that knight in shining armor and fight for what is right! P.S.  During the event we took pictures and I made a card to send to the ladies who work in Global Wonders, to thank them! Thank you, thank you, thank you, from the bottom of our hearts!" Cindy Palin

"We wanted to help sell some of the products the ladies in Nepal have made and in this way support them.  We took some necklaces and hats and mitts to an old folk's home and set up a table for them.  They were very supportive and in less than 2 hours we had sold $1000.00!!  They can't get out to shop easily, so this was a way for them to buy gifts for their families too.  We even had some straight out donations for the ministry.  We thought that was neat.  Also the hand made articles have been well received by our customers."    – Glenda
[/fusion_builder_column][/fusion_builder_row][/fusion_builder_container]