[fusion_builder_container hundred_percent="yes" overflow="visible"][fusion_builder_row][fusion_builder_column type="1_1″ background_position="left top" background_color="" border_size="" border_color="" border_style="solid" spacing="yes" background_image="" background_repeat="no-repeat" padding="" margin_top="0px" margin_bottom="0px" class="" id="" animation_type="" animation_speed="0.3″ animation_direction="left" hide_on_mobile="no" center_content="no" min_height="none"][fusion_title size="2″]Global Wonders Home Parties[/fusion_title]
This is a fun way to get your friends and families inspired about your desire to support the SA Foundation!
Global Wonders Home Parties (or office, school or youth group parties) are easy to organize! All you need to do is decide on the number of people you want to invite to your home, order your kit from the SA Foundation and then host the event!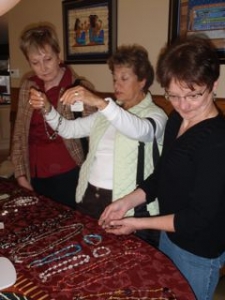 WHAT ARE OUR FRIENDS SAYING ABOUT THEIR GLOBAL WONDER SALES EXPERIENCES?
Dear Servant's Anonymous,
Have you ever wanted to be a Knight in Shining Armor? When I heard about Global Wonders and the opportunity to make a difference in someone's life, I set my fears aside, mounted the horse and picked up my sword!  We had sixteen women  come out and not only were they able to help with their purchases,  but they too were changed by the message.  It is a win, win – opportunity!
Come on everybody, be that knight in shining armor and fight for what is right!
P.S.  During the event we took pictures and I made a card to send to the ladies who work in Global Wonders, to thank them! Thank you, thank you, thank you, from the bottom of our hearts!
Cindy Palin

"We wanted to help sell some of the products the ladies in Nepal have made and in this way support them.  We took some necklaces and hats and mitts to an old folk's home and set up a table for them.  They were very supportive and in less than 2 hours we had sold $1000.00!!  They can't get out to shop easily, so this was a way for them to buy gifts for their families too.  We even had some straight out donations for the ministry.  We thought that was neat.  Also the hand made articles have been well received by our customers."    – Glenda
Please contact: GlobalWonders@safoundation.com to get started on planning your event![/fusion_builder_column][/fusion_builder_row][/fusion_builder_container]