Objectives of the SA Foundation
According to the SA Foundation's Bylaws, the objects of the SA Foundation are as follows:
To ethically raise funds in any way to fulfill the SA Foundation's objects and charitable activities and to use the SA Foundation's funds according to and in pursuit of its objects and charitable activities.

To directly assist children, women and youth (with or without children) who are either sexually exploited and/or trafficked, or who are at high risk of becoming victims of sexual exploitation/trafficking (population"), in their re-integration into society.

To assist this "population" in their re-integration into society by co-operating with local organizations abroad.

To assist this "population" in their re-integration into society by gifting organizations that are "qualified donees" as defined in subsection 149.1 (1) of the Income Tax Act and that deliver programs and services to this "population".

To provide qualified donees in Canada or through cooperating with local organizations abroad, with the needed assistance and training to give them the expertise to deliver necessary programs and services to this "population".

To produce and retail through related business activities as defined under the Income Tax Act, SA religious publications, educational and marketing materials and items such as handicrafts as a means to achieve the SA Foundation's charitable programs.
The SA Foundation has 14 Core Values that drive its program and operational delivery. These values can be summed up in 3 key values that are enacted within the SA Foundation's operating model: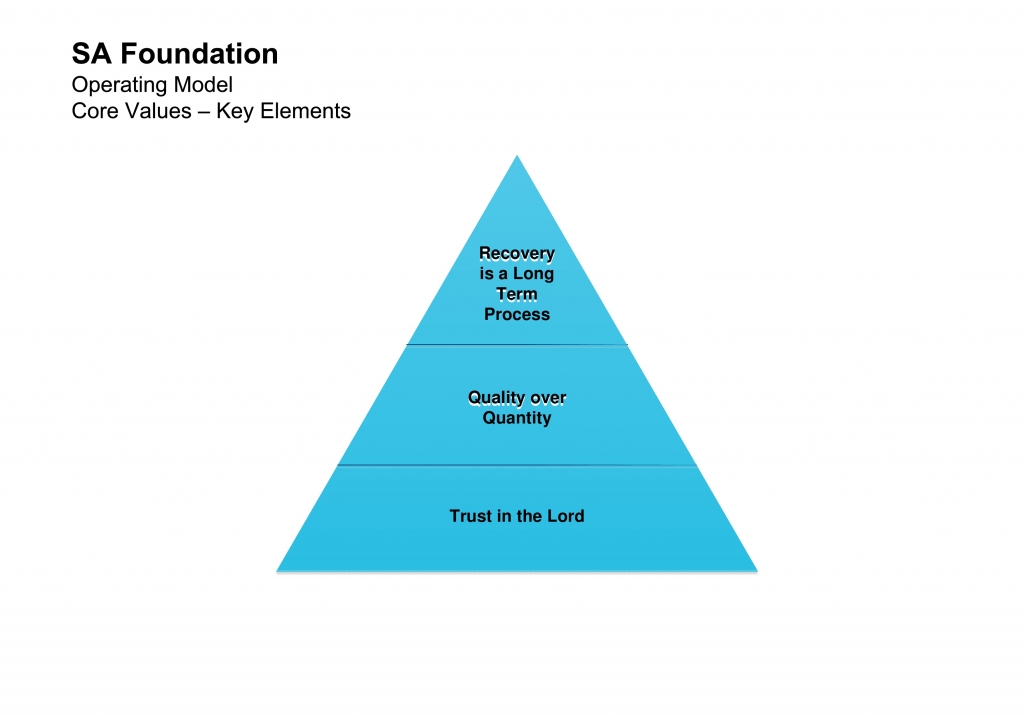 1. Trust in the Lord. As a Christian organization we trust that the Lord is in charge of all our needs and growth. He brings forth leaders of His choosing when we disseminate the program and He provides the funds, through individuals, corporations, churches and events to meet the day to day and development needs we have. He also provides the healing our participants need to recover successfully.
2. Quality over Quantity. In our program delivery to sexually exploited women smaller numbers of participants are addressed per site so that they receive long-term, individualized, quality care. The result is a high success rate among a population with extreme barriers to reintegration.
3. Recovery is a Long-Term Process. People don't end up broken overnight, nor do they get 'fixed' quickly. It takes time to heal. Therefore, the SA program model is designed to support our young women with increasing levels of independence for up to 7 years.
Learn More About Our: